Cambridge Poppy project flourishes with global support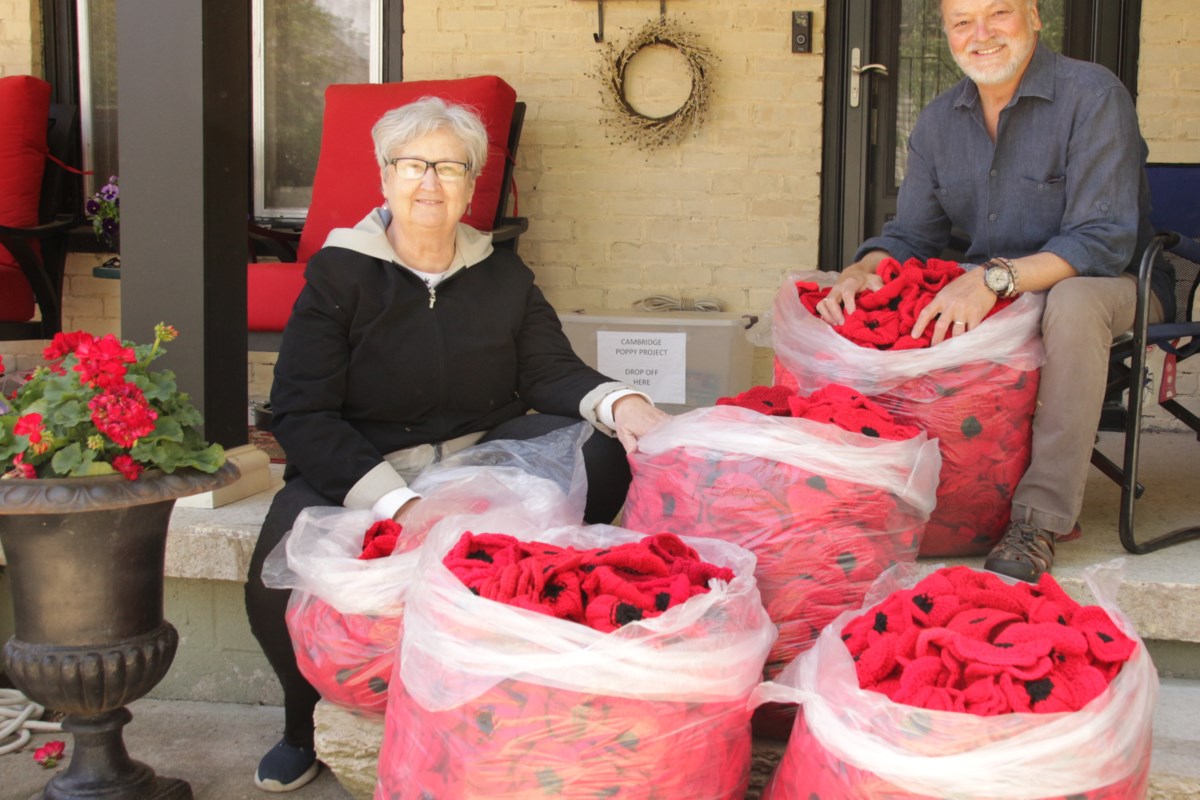 Volunteer group increased their goal from 10,000 to 20,000 after an overwhelming response from people across Canada and around the world
Local artist Danny Ingrouville found his labor of love when he was approached by the Cambridge Poppy Project.
His father, Daniel Joseph Ingrouville, was a World War II veteran, who fought in Holland, England, Germany and France.
"He died last year at age 95," Ingrouville said. "We have just celebrated one year since his death. It was a huge honor to be invited to do so."
The task for the Cambridge exhibit artist is to use the approximately 13,000 knitted or crocheted poppies to create an exhibit for this year's Remembrance Day.
The project was started by Jayne Herring, who lives in the Galt area, when she saw a similar exhibit on a trip to Niagara Falls last year.
"I was so moved that I said to my husband, 'We have to bring this to Cambridge'," she said.
And bring it to Cambridge, she did.
"I made a few phone calls and I'm lucky to know a lot of people. So we put together a team of seven and had our first (virtual) meeting in December and we're there today, "Herring said.
The project, which began with what was then considered an overwhelming target of 10,000 poppies, has now gathered more than 13,000 knitted and crocheted black and red flowers depicting the symbol used to honor veterans. The response from those who send flowers around the world has encouraged the group to raise their goal to 20,000 poppies for use in three exhibits that Ingrouville will create at each IDEA Exchange location in the city.
"There was a lot to consider for the design," he said, adding that he couldn't reveal much about the final approved idea because he wanted to keep the suspense until the end. big revelation in October. "You want him to be extremely respectful, inclusive and generic that you don't miss anyone he could represent. You want him to represent the veterans of yesterday and today.
"It's a subtle design but plush too," Ingrouville said. "When you have 13,000 poppies, opulence is easy."
There will also be a depiction of the soldier figure in the design, he said.
The size of each exhibit will vary depending on the space available in each building, Ingrouville said, but it could grow to 30 feet by 20 feet, with sections 20 feet by 15 feet.
"I've done almost one already, and it took just under a week to work on it," he said. "Now that we know what the process is, we're going to have a socially distant practice with the committee coming together to do it and find a way for the community to get involved as well."
In addition, Ingrouville said, the Royal Highland Fusiliers of Canada Cambridge Armory contacted the group to request an exhibit to go on the tank outside the arsenal.
"They give us camouflage netting to put poppies in," he said. "We are having 152 larger poppies made to represent the Cambridge veterans who died in Afghanistan."
Where the poppies that Ingrouville will use were made according to the design approved by the Royal Canadian Legion (RCL), Herring said, they were also given alternative designs made with a variety of media.
She said committee member Sue Sturdy is planning a free display of all of these poppies which will be displayed a little longer than the main screen, which will be available for viewing from October 29 to November 12 at noon, in accordance with the RCL guidelines.
Visit the project website to learn more and to contribute.