In August, you could travel to KIA by e-trains | Bangalore News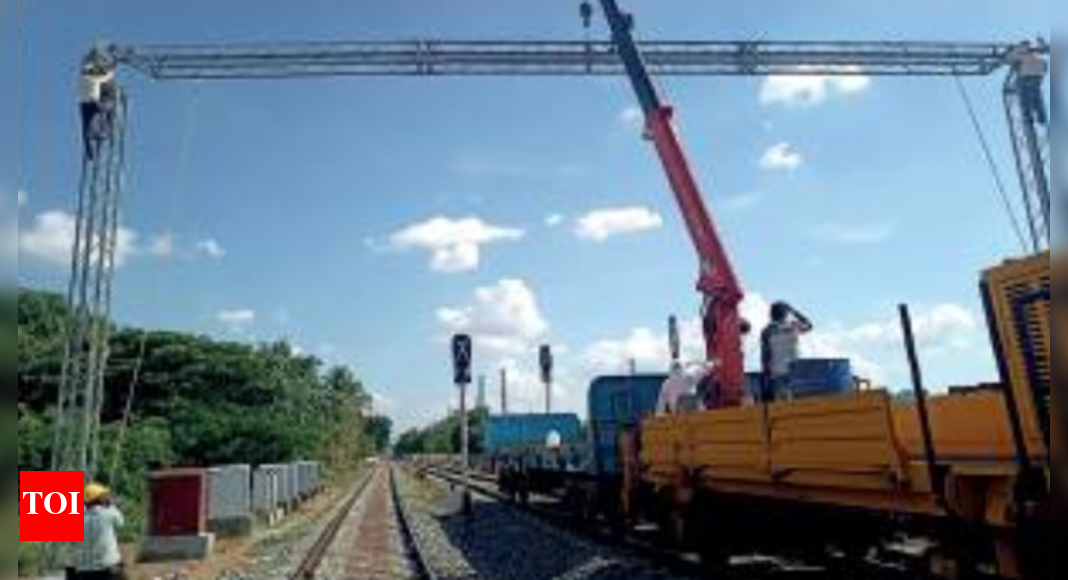 BENGALURU: If all goes according to the South Western Railway plan, passengers to the airport can expect to travel on the main line electric multiple unit services (Memu) or electric trains from this August.
SWR officials said electrification between Yelahanka and Devanahalli (23 km) will be completed by August. The previous deadline was June. "The work is progressing and the foundations and the installation of the masts have been completed. Wiring works are in progress. The goal is to complete all work by August, "said Aneesh Hegde, public relations manager of SWR. Environmentally friendly Memu trains are expected to reduce travel time by 5-10%.
SWR operates 10 trains per day to and from the KIA stopping station, which opened on January 4. The ticket price is between Rs 10 and Rs 15. The station, built by Bangalore International Airport Limited, is located 3.5 km from the terminal and was intended to benefit nearly 28,000 airport employees and travelers. However, the ridership of these trains to the airport was low, as the frequency of diesel-electric multiple unit (Demu) trains was lower. SWR will be able to operate a few additional trains once the electrification work is completed.
"When it comes to operating trains, electricity costs less than diesel. An electric train takes two minutes for initial power-up, compared to a diesel train, which takes 15 minutes. The motor can accelerate and decelerate much faster, thus saving travel time. Memu trains are bidirectional, which reduces the need to move or change engines, "said an official.
However, Devanahalli-Yelahanka is a single track and section doubling is required to operate additional trains here. But SWR does not intend to dub this section immediately. Officials said it was part of the KSR Bengaluru City-Yelahanka-Devanahalli Corridor (41 km) of the Bengaluru Suburban Rail Project, which has a deadline of 2026.
The electrification between Yelahanka and Devanahalli is part of the electrification project undertaken by the Central Organization for the Electrification of Railways (CORE) between Yelahanka and Bangarpet (149 km). Of the 1,144 km of road (RKM) in Bengaluru Division, 661 RKM have been electrified so far.
Hegde said the deadline to electrify the entire Bengaluru division is March 2022. "But the tender for the electrification of the Chikkabanavara-Hassan line is still ongoing. The deadline for electrification of the entire SWR is March 2023, "said an official.